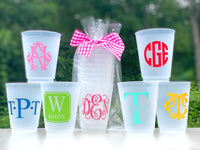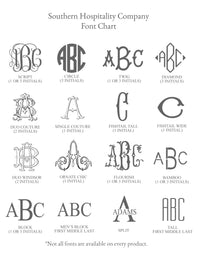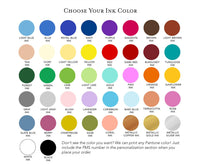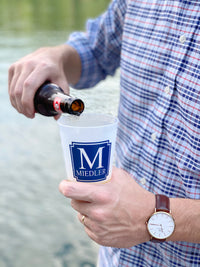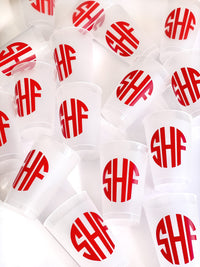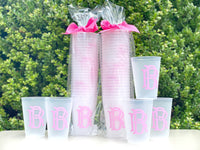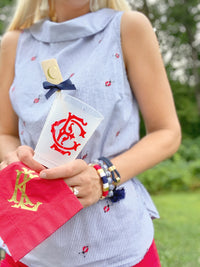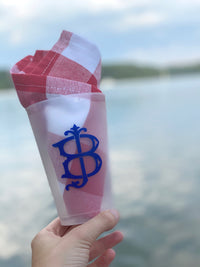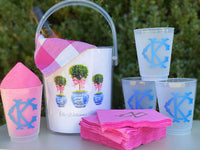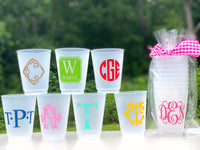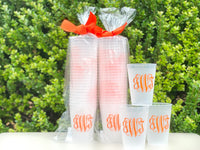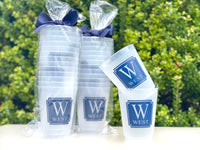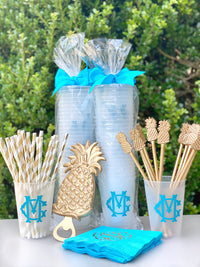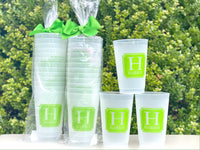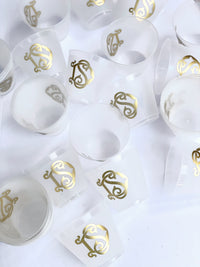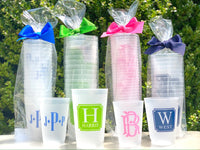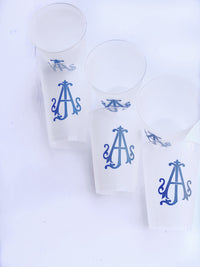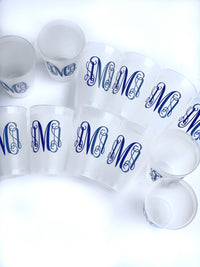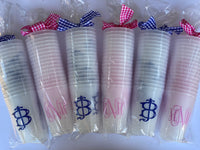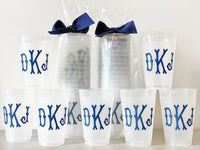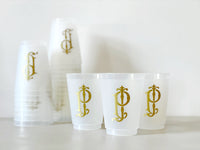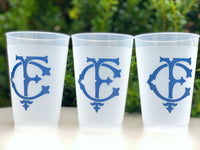 Frosted Monogrammed Cups, 9oz-24oz
This listing is for a shatterproof frosted cup ranging in size from 9oz to 24oz. 

Product Description:
Sizes range from 9oz to 24oz
Frosted, somewhat transparent
Screen Printed
Unique Frosted, Textured Design
Top-Shelf Dishwasher Safe
Recyclable (#5-Polypropylene)
BPA Free
Made & Printed in the USA

* Drinkware is measured as filled to the brim. Stated ounces are intended to show approximate volume and are not an implied guarantee of exact volume.
Dimmensions: (Top Width x Height x Base Width)
9oz: 3.5" x 2.75" x 2" Recommended for red, white and blush wines
12oz: 3.125" x 4.25" x 2.125" Recommended for mixed and signature drinks
14oz: 3.25" x 4.625" x 2.1875" Recommended for mixed and signature drinks 
16oz: 3.5" x 4.5" x 2.25" Recommended for pint glass size, soft drinks, ice tea
20oz: 3.75" x 5.375" x 2.5" Recommended for beer, soft drinks, ice tea
24oz: 3.75" x 5.625" x 2.625" Recommended for ice water, soft drinks, tea
Recommended Sizes:
*Most popular size is 16oz*
For kids drinks, juice or wine: 9oz or 12oz
Beer or Drinks with ice: 14oz, 16oz, or 20oz
If you're wanting one cup size for all beverages at your event we suggest 14 or 16 oz. 
Customization:
Please provide your monogram in the EXACT order it is to be printed.
Example: Ashley Elizabeth Smith - aSe
Couple's Example: Ashley and John Smith - aSj
*2-Letter Couture font is with TWO initials only*
*Tall font is the only font you write in first, middle, last order*

Production Time:
4-6 Weeks

Production times are estimated with the understanding orders are submitted with all necessary information. If there is any follow-up needed, this will delay production in order to ensure 100% accuracy in order details.